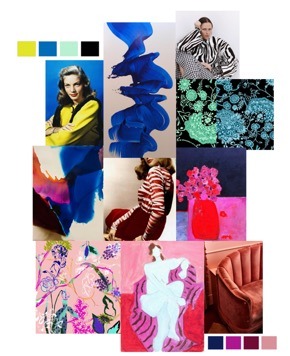 The Inspiration: Lauren Bacall
Tanya Taylor's Fall 2019 collection is a celebration of contrasts that plays on the multiple definitions of femininity. Through twisting the traditional, a new voice is created: one that begs you to step out of your comfort zone and explore the unexpected. Traditionally feminine, fluid velvet transforms into bold power suiting, functional army work wear is glitzed with chunky crystal embroidery, plaid shirting is spliced with luxe metallic lamé, and conventional paisleys appear in unexpected colors. The Tanya Taylor woman is complex, and her style reflects that. She is not one thing and she is not wearing just one thing—layering is important and texture play is at the core of her expression.
The essence of Lauren Bacall during Hollywood's "Golden Age" was a constant inspiration when designing Fall 2019. In addition to carving her own path as a woman working in a male dominated industry, she effortlessly transformed the trends of the time into her own. She pioneered functional dressing for the everyday woman while maintaining a striking but effortless glamour. The Tanya Taylor woman strives to embody her legacy of style, individuality, and true feminine force.